【Who Are We】
Welcome to who we are column. Today, I will show you what kind of club UTAC is.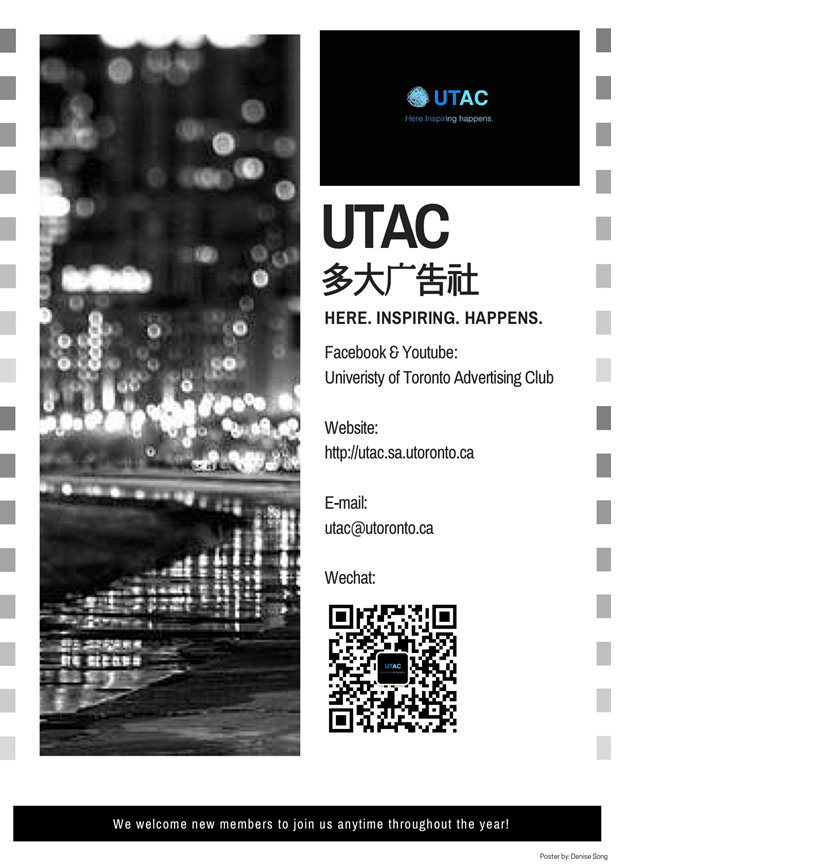 As a newly-formed club, it is very hard to be recognized by the students in this great university with hundreds of different kinds of clubs.
When it comes to advertisement, maybe you will think of those shining LED advertising board? Or those huge adverting post? What UTAC produced is also perfect. We have cooperated with clothes brand, magicians, UT CMC. Whenever we are shooting advertising videos or photos, every member of UTAC will do their best and present the best work for our clients.
What UTAC wants is to bring a creative and unique club to UofT!
UTAC Works show
AdrenalEase Sporting Clothes
Tutorial –
At the end of October 2015, we cooperate with AdrenalEase Company shooting the tutorial and advertisement for "Performance Shirt". During the shooting, we met many difficulties. New models to be familiar with. We have to spend a lot if money buying new photographic equipment. And it is sad sometimes to be asked not to shoot by the security though. However, all these are not problems to UTAC! It is wise to leave all these problems to our professional shooting team. And they fixed all of them! It is all members' hardworking that makes the result so great. Models form the company are also very satisfied with the first cooperation with UTAC.
CMC King of karaoke
Remember the popular 'CMC King of karaoke' promotion video few days ago? On the moment of singers looking back, the scene that they pick up their dreams, an artistic combination of storytelling and reality emerges in the video. This promotion video produced by UTAC creates a story about chasing dreams and going beyond the dreams.
Opening Cinema
Grand Final Promotion Video
Two magicians Will Zhang & Matthew Stewart
UTAC receives a mystery mission. Shoot a promotion video for two Canadian magician! We bought brand new equipment just for this video! During the shoot, UTAC team did everything on our own. From the pose, light to the items, we considered every detail you can think of. The result is perfect, two magicians are very happy with our video.
Fate 2015 New Year's Eve Party
This time we cooperate with Xiaoshifu entertainment club, we create the script and use the best equipment together. We cooperate with the senior photographers and directors and hope to create the best video ew have ever produced. In this process, we use professional views to see whether our video is qualified. Countless retake and fix until the video is perfect.
Promotion video: http://v.qq.com/boke/page/g/0/z/g0176ul41dz.html
The next mission waiting for UTAC is shooting promotion videos and photos for York University's singing contest. Coming soon!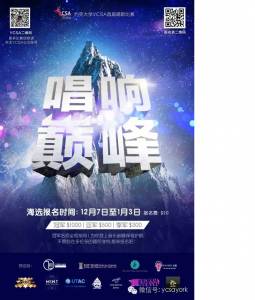 Recruit!
Public Relations:
Post photos and simple messages to the social platform, let everyone knows the newest news about the club (Just like what I am doing! ><). Also you may need to keep in contact with different clubs or partners.
Twitter Manager – 1 position
Facebook Manager – 1 position
Instagram Manager- 1 position
Requirements:
1.Advanced English Level
2.Be good at communication and patient with different questions.
3.Have certain professional knowledge about advertising.
4.Prior to those have the same working experience.
Public relation assistants-3 positions
Communicate with different clubs and companies.
Requirements:
1.Well-connected in different clubs
2.A smooth talker
3.Good at both English and Chinese
Marketing:
Wechat management, promotion on campus and advertising post production. Try to let more people know about us.
Writer-3 positions
Requirements:
1.Love writing.
2.Have creativity and imagination
3.Strong responsibility (can hand in your writing assignment on time)
4.Good at both Chinese and English
5.Have certain experience in electronic drawing
6.Would be better if you could provide us your previous work
Sponsor:
Contact the sponsor , and keep in contact with them.
Sponsor assistant 4-5 positions
Requirements:
1.Good at both talking and writing
2.Prior to those who have certain sponsor experience in other clubs
Production:
From shooting, post-production, finding shooting field to keep in contact with clients. This department has different groups, each group will be assigned some small shooting missions in order to complete the whole shooting video.
Photographers – 2 positions
Requirements:
1.Confirm the shooting style from the director
2.Prior to those who have relative equipment and those who can provide previous works
3.Can complete the mission on time
4.Have professional skills and be hardworking
Logistics:
Logistic management within the club and support the shooting or booth event on campus. Do all the physical work.
4-5 boys( Attention, only boys)
Requirements:
1.Strong responsibility and hard working
2.Follow the arrangements
Design:
Post Design.
Post designer 3-5 positions
Requirements:
1.Be familiar with electronic drawing, photoshop and other post-production software.
2.Hardworking
3.Complete the club's assignments on time
4.Prior to those who have experience in post designing
How to join us?
Please send e-mail containing the department and position you want to hr1utac#gmail.com. Our HR will contact you later and inform you the interview time. Thanks for cooperation!
You can also find us on the following:
Facebook + Youtube:University of Toronto Advertising Club
Instagram + Twitter:UTAC
Website:http://utac.sa.utoronto.ca
E-mail: utac@utoronto.ca
UTAC University of Toronto Advertising Club
Presents