@   VOTE FOR BingChen Shan (Tony)
— Governing Council—
 "To be your representative"
Young men in 21st century don't stick to just one rule or pattern. They seems to be lack of their elder's character of calm. But in fact, with unbounded imagination, we push forward the time with the great power enough to challenge the tradition. And that power is ———change of the way of how we think.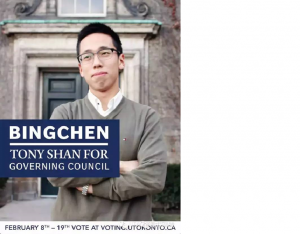 Not expecting winter comes so fast. In such a cold day, UTAC team shoot a personal promotion video for the candidate of the UofT governing council Bing Chen (Tony) Shan. In order to let the promotion for Tony, who is full of passion, sincerity and kindness, spread faster to the students on campus, our shooting team finished the video production at the lightening speed. The director and producer together with the video cutter hit it off, the team work among our club members is really amazing! Having thrown away the worry for the competition, Tony's sincerity and enthusiasm touched every staff during the shooting.
Governing Council opens the campaign to the international students for the first time. During the interview, Tony let all the people on the spot know what wholeheartedness is.
Tony want to do three things for the UofT students: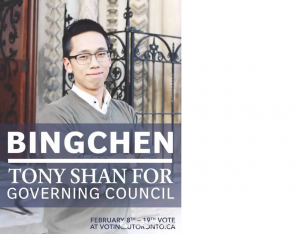 Help reduce the students' stress, especially the increasingly rising tuition fees for the international students.
Organize more academic salon, give the undergraduates more chance to talk to the graduate students.
Help improve the food quality on campus and reduce the waiting time in line.
Promotion video link:
http://v.qq.com/boke/page/j/0/1/j0184eb21w1.html
UTAC University Of Toronto Advertising Club
Presents