'CMC King of karaoke' just ended at 21:00, November.21st. It becomes the hottest topic on campus no matter you are in a library, classroom or dining hall. We can still hear those singers' beautiful voice flowing on campus. Chinese annual singing contest seems to be first-year new friends' expectation about the future college life, the best recreation for the graduates before thesis defence and the great encouragement for busy year 2 and year 3 students.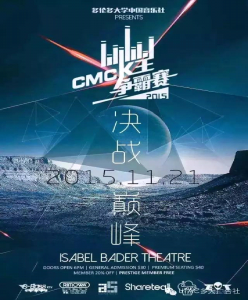 Step inside from the camera
Remember the popular 'CMC King of karaoke' promotion video few days ago? On the moment of singers looking back, the scene that they pick up their dreams, an artistic combination of storytelling and reality emerges in the video. This promotion video produced by UTAC creates a story about chasing dreams and going beyond the dreams.
On the moment of singers looking back, the scene that they pick up their dreams, an artistic combination of storytelling and reality emerges in the video. This promotion video produced by UTAC creates a story about chasing dreams and going beyond the dreams.
A few days of rain brought some trouble for our shooting team. In order not to shoot repeatedly and reduce meaningless retake, the UTAC shooting team drew on the wisdom of the mass. We emphasize on the characteristics of different singers. Comparing to exaggerated cool special effects, this simple style of advertisement enjoys more popular support.
Not compete, but enjoy
At first, I thought CMC's contest is just like other singing contests as we saw on TV where flame of war burning on the stage, bullets made of singing voice flying through. However, on entering the backstage, CMC's stuff impressed me with their professional arrangements, they did everything efficiently and in order.
After a small break, audience began watching the promotion video. The first part of the video is about singers smiling which conveys their love of music to us. Before we could give our praise, the video moved on to give the audience fantastic slow-motion. UTAC uses various angles, methods and techniques to show the best of every singer and is highly praised by the audience.
Not competitor, but miracle
A contest which should be very intense becomes a wonderful show for everyone to enjoy after the first singer using his beautiful voice which touched the audience.
The top 3 singers came out after a three-round battle:
The big boy, Eric Liu, using his own style of 《Cao Cao》 won the third place in 2015 CMC singing contest and was also recognized as the most handsome guy in this year's contest.
The second place went to Cherrina, whose high-pitched voice and optimistic smile touched everyone.
Finally, the champion comes to Leon Liang! Congratulations! A singer combines gentility and royalty, a singer lives up to his name!
Behind the stage, about hard-working:
Toronto's terrible winter has always been a great concern for UTAC shooting team. Besides the dark light of cold raining day influenced the quality of shooting, our shooting team's leader, Elle, couldn't be more concerned about our singers' health.
Cherrina: The first thing director Victor said about her is that 'She is a very quiet girl'. It is this quiet girl that accepted every NG without any complain and gave all her trust to the director.
Leon: Producer Elle said 'Leon is a talented actor and he could pay attention to every detail' The scene that Leon tore the music score apart vividly shows the hard work behind the stage.
Michelle' That day was very cold' The director and producer said almost simultaneously. In order to capture the best scene, Michelle took off her warm coat and held her favourite microphone in the chilly wind for nearly 30 minutes. Let us cheer for our brave and lovely Michelle!
Bella: Have you ever seen a girl who is so beautiful that she doesn't even need to makeup? Bella is that girl. She let all the UTAC stuff being shocked by her beauty and acting skills. 'Her eyes are really amazing!.' said the director, 'She can speak using her eyes!'
Edward: 'Honestly he works hard' Because of the design of the script, we let Edward came to the shooting scene twice. However, this didn't let his enthusiasm down. He even came up with an idea to take off his coat and show his muscle. He is such a boy who enjoys his life and music.
Zixuan Wang: 'She knew what she wanted to present.' said the director. Zixuan brought her shooting experience to UTAC's shooting events and let the stuff finished their work quickly and perfectly.
Sherru: This girl who only wore a dress on such a cold day roamed around the Christmas tree for more than 20 times. When the temperature dropped rapidly to units digit, Sherry seemed to be a big surprise for the UTAC. She always stepped forward with confident and wore a smile of her own until the shooting was finished.
Eric: A creative boy can always attract a lot of girls. Eric is such a boy. During the shooting, our director also gained plenty new ideas from him. Eric is also humorous, so no wonder why there is so many laugh coming out of the shooting scene.
Advertisement and music, a natural fit
CMC King of karaoke opening video
CMC King of koraoke grand final promotion video
When UTAC meets CMC, visual and auditory masterpieces are filled with magic and we cannot move our eyes off them.
UTAC
Present